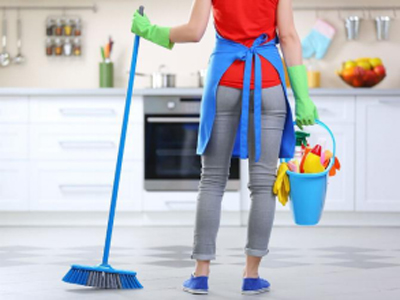 Hiring a cleaning service to clean your house may simplify your life and free you of everyday responsibilities. You won't have to stress about finding time to do chores during your busy day. You won't have to spend time dusting, washing, or vacuuming after you've delegated cleaning duties to a cleaning service. So, if you're on the fence about hiring professional home cleaning services in Houston, these five reasons should persuade you that it's well worth the investment!
When a business hires a professional cleaning service, they can expect amazing results and reap several benefits.
Tools and equipment with a specific purpose
A professional cleaner will be up to date on all of the industry's significant advances. They've spent a lot of time and money looking for the best cleaning products and equipment on the market. For each task, they should have a wide selection of materials and appropriate equipment and cleaning materials. They'll know when and where to use each instrument, and they'll employ it to produce flawless, high-quality cleaning results.
Staff that are well-trainedand knowledgeable.
Professional home cleaning services in Houston will have a pool of employees that have been well trained and competent. Employees will be courteous and have completed several hours of training. They will receive specialized training to clean all types of business premises and will be able to produce effective cleaning outcomes. All of their employees should be security screened and background verified so you can trust that they are only recruiting the best individuals.
Reducing your carbon footprint is a great way to help the environment.
In recent years, the cleaning sector has made significant progress in terms of environmental protection. A reputable cleaning business will make every effort to ensure that its products are as green as possible. They will provide environmentally friendly solutions that are safe for the environment and the individuals who come into contact with them.
A strategy that is tailored to your needs
Professional cleaning businesses are eager to delight their customers and will carefully listen to your needs. They will collaborate with you to develop a cleaning plan that is appropriate for your company. They should be adaptable and willing to work during or outside of business hours, and they should be able to mobilize their teams if more work is required. They will also stay adaptive, changing their schedule to meet the demands of the business.
Deliver outstanding results
The physical makeover will be the most visible overall advantage to your company. You'll be astonished at how much a professional cleaning services provider can improve the appearance of your company. Your business will shine and become a warm and inviting environment. You should be completely delighted with the appearance of your business, thanks to their properly educated crew, outstanding craftsmanship, and quick response times. A thorough cleaning program like this always makes a positive impression.
When professional home cleaning services in Houston clean your bathroom, they will disinfect your toilet and wipe down your faucets and sinks. Your countertop and baths will be properly disinfected. There is no need for you to contact these bacteria if you are worried about germs. A professional is unafraid of germs and will sanitize the area more thoroughly.